2014 Panini Immaculate - Frank White Autograph - #/99



I must admit, I'm a "White Guy".
Now, that's not saying anything about the pigments of my epidermis, but rather, my fandom for Royals legend Frank White.
The man won eight Gold Gloves, and got immortalized in this Bobblehead for it: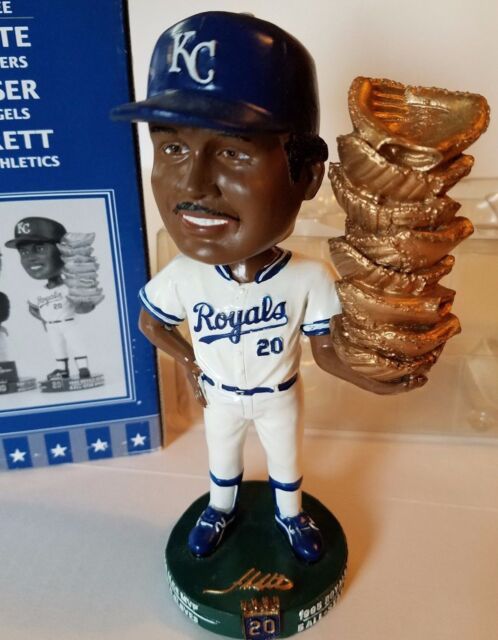 But still, he doesn't show up much in trading card releases since his retirement...let alone have many autographs or relic cards. The last Topps product he was in was 2013 Archives. However, Panini has done a little bit better job with Frank -- including him in 2013 Hometown Heroes, 2013 America's Pastime, and 2014 Immaculate. Apparently he had a low-numbered card (#/3) in a repack product called "2017 Leaf Greatest Hits", but I have never seen that one. The only relic card I have of his is 2002 Topps Gold Label.
But going back to the card at the top of this post, that is an on-card autograph from 2014 Panini Immaculate that arrived at my door yesterday, and it only cost me $1.75 total.
How? Last week Ebay released a short-term coupon code ("PERKMEUP") for $5.00 off of any purchase of $5.01 or more.

(**Hat-Tip to The Lost Collector and $30/Week Habit for posting/liking this code on Twitter so that I saw it.) I had been watching the White auto for awhile, but wasn't willing to pull the trigger for $7. However, I could do it for less than $2!!
It is numbered 30/99, signed in blue pen which goes with the uniform, and is a great addition to my Royals collection. I would have to say that collectively the Immaculate line is probably my favorite product out there in the last several years, so getting any more Royals from there is awesome.
Did anyone else use the PERKMEUP code or score any crazy deals lately?